To transform – to evolve into a higher state of being; is that not what we all wish? With the help of Nature we can.
Everything that lives in Nature has a consciousness.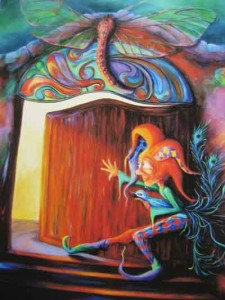 Everything with a consciousness can communicate with you.
If you can communicate, you can cooperate with it.
Everything you can cooperate with can help you develop.
Nature is not only able to communicate with you, but also has a great healing power which I believe many are aware of. There are healing herbs that our school medicine is based on, but there is also so much more. It is not a coincidence that we need the oxygen that plants produce and they require the carbon dioxide we exhale.
But there is more…through our thoughts and emotions we humans create heavy and powerful energies that can hinder our development. They can even make us sick. This can be seen through stress related problems and illnesses that are common after grief and sorrows, for example. Ailments derived from happiness is something I've yet to hear of.
Did you know that you can let these burdening energies leave you just by going out and for example sit down on a tree stump, or hug a tree? Doing this will cause them to let go and slip down into the Earth. Try it! In our garden we will focus partly on making this process easier.
It will be a Garden of Transformation. We can help you as well if you wish. Both through guided instruction and meditation to transform, or rather, change your current energies into other energies that are more beneficial to your life.
Helena works both as a nature therapist and a coach and will gladly help you whether you need assistance with coming out of harmful thought patterns or if your ailment is of a physical nature. With the help of herbs – often as tinctures – it is possible to soothe or possibly remove the problem. Well, the mystery of Nature might not be as impenetrable as it may seem, once we learn how to understand her.