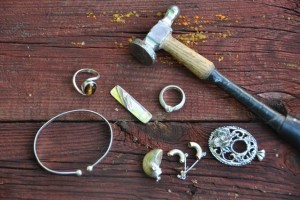 Date and Time:Friday 15/7,22/7, 29/7, 5/8, 12/8, 19/8, 26/8,
Fågeltorpet,  Väster Våla,  Ängelsberg

One or two days – your choice – create the most beautiful jewelry you can imagine. After a short introduction, you will form the clay into anything you want. Then we burn off the cellulose from the clay, polish it, and you will have created one or more brilliant pieces of jewelry. A small amount of Silver Clay is included and more is available for a minor fee.
Cost: 1500 SEK/day. Child 8-15 yr, 1000 SEK. Coffee/tea, bread and vegetarian lunch included.