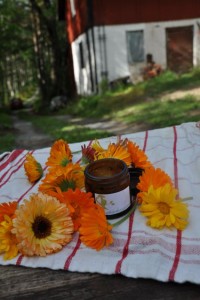 Date and Time: :Thursday 21/7, 28/7, 4/8, 11/8,      Fågeltorpet,  Väster Våla,  Ängelsberg
We spend a day making ointments, lip balm and tinctures  from natural ingredients such as flowers, leaves, olive oil, beeswax etc. You will bring home your products, recipes and an understanding for Nature's healing power. All ingredients and containers are included.
Cost: 1500 SEK/day. Child 8-15 yr, 1000 SEK. Coffee/tea, bread and vegetarian lunch included.